ZAHIDA SULEMAN
PRODUCER & ANCHOR (PUNJABI, HINDI, URDU & ENGLISH) AT KBC NEWS TV CHANNEL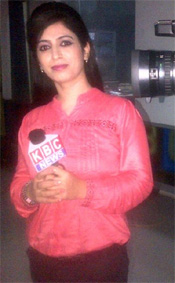  Worked as Managing Director of a regional Punjabi Monthly Magazine "SANJHI PEER" from 2002 to 31 Dec. 2005
 Worked as a Sub-editor in a daily news paper "ROZANA SPOKESMAN" from January 2006 to December 2007.
 Worked as staff reporter from Chandigarh and chief sub-editor for ROZANA SPOKESMAN since January 2008 to 2012
 Worked as a Sub-Editor in Daily Post Chandigarh from January 2012 to December 2012.
 Worked with PBN channel at Chandigarh from January, 2014 to June 2014.
 Working with KBC NEWS channel at Rajpura from July, 2014 onwards.