DR. MANJIT SINGH BAL
MBBS MD (Pathology), FICP, Author of 11 Books, Writer & Producer of Two Films
Retired on 31st March, 2015 as Professor & Head, Dept. Of Pathology, Govt. Medical College Patiala [PUNJAB - INDIA] AND -- currently he is PROFESSOR of Pathology at MM MEDICAL COLLEGE & HOSPITAL - SOLAN (H.P.)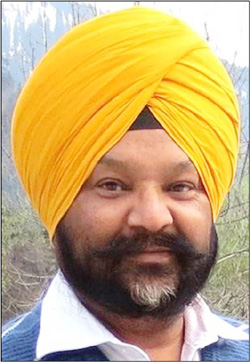 Dr. Bal is the son of Late Bibi Pritam Kaur and Late S. Santa Singh ji Bal. He got his earlier education at Village Bal Kalan; and Govt. Senior Secondary School Town Hall Amritsar, followed by higher education at the DAV College Amritsar (Punjab University Chandigarh). He passed his Medical Graduation (MBBS) at Govt. Medical College Amritsar, 1971-1976 batch under Guru Nanak Dev University, then Post graduation: (MD Pathology) from Govt. Medical College, (GNDU) Amritsar. He remained in Govt. Job from 1st January, 1978 to March 31, 2015. Dr. Bal spent first 6 years of his service in Border Area of Amritsar (Bhikhiwind, Chhina Bidhi Chand, Panjwar, Kasel, Jhabal, Gandiwind) + six months at civil hospital Jalandhar. On 01-01-1984, je joined deptt of Pathbology bat Medivcal College Amritsar, worked on different designations/postions aand then worked iat Medical colleges Faridkot and Patiala, at various positions. He joined GMC Patiala one 10-8-1998 as Prof. & Head, Pathology at GMC, Patiala and retired from this college in March 2015, with total Government Job of 37 years and 3 months. Experience as forensic pathologist: since: 31 Years.
Dr. Manjit Singh Bal has authored 11 books
1. "Sehat Samassiya-vaan ate Chentannta" (ਸਿਹਤ ਸਮੱਸਿਆਵਾਂ ਅਤੇ ਚੇਤੰਨਤਾ), on health topics Published by Punjabi University Patiala. (Punjabi) 2. "Rogan Di Utpati Kiven ate Kiyon" (ਰੋਗਾਂ ਦੀ ਉਤਪਤੀ ਕਿਵੇਂ ਅਤੇ ਕਿਉਂ), on health topics. (Punjabi) 3. "Silver jubilee of pen friendship" (Non-medical). 4. Dabbian wala khes (ਡੱਬੀਆਂ ਵਾਲਾ ਖੇਸ) (25 stories) in Punjabi language. 5. Sheokh Brahm (Hindi) 6. My visit to Kashmir (English) 7. Safarnama Pondicheri (ਸਫ਼ਰਨਾਮਾ ਪਾਂਡੀਚੇਰੀ) (Punjabi) 8. Sehat di sambhal kivein kriye (ਸਿਹਤ ਦੀ ਸੰਭਾਲ ਕਿਵੇਂ ਕਰੀਏ?) (Punjabi) 9. Karvan Chalfda Rahe (Punjabi) 9. Gadudaan diyan samassyavaan (ਗਦੂਦਾਂ ਦੀਆਂ ਸਮੱਸਿਆਵਾਂ; (Punjabi University Patiala) 10. Aapka Swasth (HindI)
Post graduate degrees produced:
110 post graduate students
Conferences organized:
(8) 1. Conference of North West Chapter of Indian Assoc. of Pathologists & microbiologists, April 1997, at GMC, Amritsar. 2. Conference of North West Chapter of Indian Assoc. of Pathologists & microbiologists, April 11, 1999 at GMC, Patiala.
3. Workshop of International Academy of Pathology – Indian Division (IAP-ID), April 18, 2003. at GMC Patiala. 4.Conference of North West Chapter of Indian Association of Pathologists & Microbiologists on April 19, 2003 at GMC Patiala 5. Conference of North West Chapter of Indian Association of Pathologists & Microbiologists, March 1 & 2, 2008 at GMC Patiala 6. Conf. of International Academy of Pathology, Dec. 1, 2011 7. Conf of Indian Assoc of Pathologists (APCON 2011), Dec. 2011. 8.National Annual Review Meeting Cancer Registries of India. Nov. 2013
Conferences attended / papers presented:
58
Publications in International & National scientific jourmnals:
113
International conferences papers presented at
: Brisbane in 2004 and Melbourne in 2014 (Australia); Singapore; Lahore; Dhaka; Kathmandu, California
Examiner in Pathology for MBBS, MD, and BDS Courses
1. Baba Farid University of Health Sciences, Faridkot (Punjab) 2. Punjabi University, Patiala (Punjab) 3. Punjab University, Chandigarh (UT) 4. Guru Nanak Dev Univ., Amritsar (Punjab) 5. Himachal Pradesh University, Shimla (HP) 6. MD University, Rohtak, Haryana 7. Barkat ullah University, Madhya Pradesh 8. Kurukeshtra University, Haryana 9. H N Bahuguna University Sri Nagar Garhwal (Uttaranchal) 10. Delhi University, Delhi 11. J.I.P.M.E.R Pondichery 12. King George's Medical University, Lucknow (UP) 13. Maharashtra Uni. Of Health Sciences Nasik (Maharashtra) 14. Jammu University Jammu 15 Kashmir University Srinagar 16. Sher-e Kashmir Institute of Medical sciences Srinagar 17. Safdar Jung Hospital Guru Gobind Singh Inderprast University New Delhi.
Chairman/ Member of associations/societies
1. International Academy of Pathology-Indian Division (IAP-ID), 2. Indian Association of Pathologists & Microbiologist (IAPM), 3. Indian Academy of Cytology (IAC) 4. Editorial Board, Indian Journal of Pathology & Microbiology (2000-2003) 5. Governing Council IMA- Academy of Medical Specialties, Pb., 6. Indian Medical Association (IMA)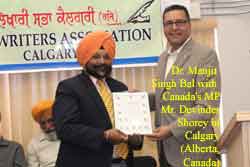 7. National Advisory Board of Jr. Ind Assoc. Forensic medicine 8. Chairman of MD/MS, Thesis Scrutiny Committee (Surgical Group), GMC, Patiala. 9. Chairman of Counseling for MBBS admissions at Baba Farid Univ, of Health Sciences Faridkot. 10. Chairman/Dean of Meeting of Faculty of Medical Sciences at Baba Farid Univ, of Health Sciences Faridkot. 11. Punjabi Sahit Sabha Patiala. 12. Minni Kahani Manch Amritsar 13. Patiala Kala Manch Patiala (As Advisor) 14. Hindi Bhasha Sammelan Patiala. 15. Gyandeep Sahit Sadhna Manch Patiala. 16. Malwa sahit Sangam Patiala 17. Patiala Saaz aur Awaz cultural forum (Vice president). Many International and National Scientific Journals
Overseas visits
USA
- San Francisco, Fresno, Yuba City, Sacramento, Vaca Ville in California, New York, New arc, New jersey
Canada
- Toronto, Vancouver, Calgary, Winnipeg, Windsor, Sarnia
Australia
- Brisbane, Sydney, Melbourne
Singapore
Nepal
- Kathmandu
Bangla Desh
-Dhaka
Pakistan
-Lahore, Nankana Sahib, Hasna Abdal, Rawalpindi.
Projects
1. Development of an atlas of cancer in Punjab under National Cancer Registry Program (ICMR-WHO). 2. Population based Cancer Registry (PBCR) Patiala under National Cancer Registry Program of ICMR
Cultural programs organized
1. On Shaheed Bhagat Singh – Martyr - In Medical college 2. On Shiv Kumar Batalavi – Punjabi Poet - At Parbhat Parwana 3. On Surinder Kaur – A renowned Punjabi singer - In Central library 4. Surmaee Sham –Musical evening - At Gymkhana club Patiala.
Films
Based on my story, a film
"
Musarrat Sarhaddon Paar
" has been produced. The Film has Dr. Manjit Singh Bal's own lyrics, story, dialogues, music, a small role and editing.
Based on my story, another film :
"Jhanjar with Ostegenic Sarcoma" about Cancer Awareness
Fellowships
1. Fellow of Indian College of Pathologists(FICP) 2. National Dalit Sahit Academy Delhi. 3. Fellow, Punjabi University, Patiala.
Blood Donations
--- 11 All India Radio & TV Talks --- 12 (at AIR Jalandhar, AIR FM Patiala, Red FM Vancouver, SBS Radio Melbourne, Sydney, Toronto), DD Punjabi, a Punjabi TV Channel at Toronto,
Extra curricular activities / Hobbies:
Music, singing, can play flute - a music CD on Flute, Tunes of old Indian film songs instrumental. Photography, Story poem writing, Health articles in National & International Punjabi dailies and journals, academic & scientific articles.
Mehtab-Ud-Din
has produced a short film on Dr. Manjit Singh Bal; it is available on YouTube. You can see it here. Dr. Manjit Singh Bal is residing at Zirakpur (Tricity Chandigarh), can be contacted at:
Resi:
+91-1762-271400
Cell:
91 9872843491; 8350800237
Email:
balmanjit1953@yahoo.co.in