MOHD. RAFI SINGS FOR CHRISTIANITY
MOHD. RAFI IS A GREAT SINGER NOT ONLY OF THE INDIAN SUB-CONTINENT, BUT HIS VERSATILITY IS STILL UNMATCHED THROUGHOUT THE WORLD ALSO. HE WAS BORN ONLY TO SING JUST LIKE THE OTHER GREAT SINGERS i.e. LATA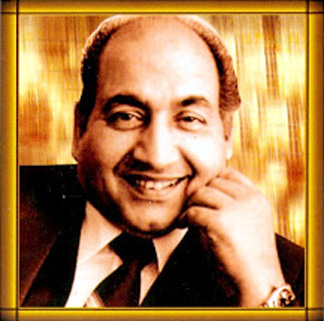 MANGESHKAR, ASHA BHONSLE, MUKESH, KISHORE KUMAR, MANNA DEY, MAHENDRA KAPOOR, USHA TIMOTHY, SUMAN KALYANPUR AND MANY MORE. MOHD. RAFI PROVIDED FIVE GEMS FOR THE INDIAN, PAKISTANI & NEPALESE CHRISTIANS (THOSE CAN UNDERSTAND HINDI/URDU). THE POWER OF THOSE SPIRITUAL SONGS ARE LIKE 5 MILLION SONGS. A SINGLE WORD, SUNG BY MOHD. RAFI IN THESE SONGS RISES THE SPIRITUAL HEIGHTS OF OUR SAVIOUR-THE LORD JESUS CHRIST TRILLION TIMES. THESE SONGS ARE FULL OF RELIGIOUS FERVOR AND HAVE THE POWER TO FILL EVERY PERSON/FOLLOWER WITH A NEW ZEAL AND ENTHUSIASM. HIS HIGHER PROFESSIONAL ALTITUDES CAN EASILY BE FELT/SEEN FOR EVERY OTHER RELIGION i.e. HINDU, MUSLIMS & SIKHS OR VARIOUS OTHER CASTES/CREEDS/CLASSES ALSO. THAT IS WHY, HE IS STILL BEING CALLED EVERGREEN & THE ALL TIME GREAT.
A renowned Music Arranger of Bollywood Mr. Enoch Daniels was Rafi sahib's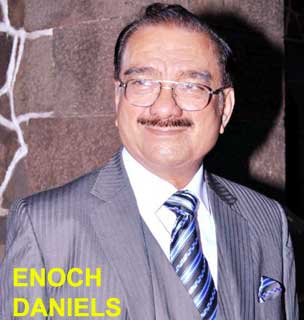 favourite. Most of the times, Mr. Daniels remained with Rafi sahib during his foreign tours. The following first three Christian songs, sung by our beloved Rafi sahib – 'CHALO CHALO DARSHAN KARNE JAG RAKHWALA AYA HAI'. 'CHHUDANE PAAP SE SAB KO LIYA AVTAR YISU NE' & 'MAHAMARAN KO JEET KE YISU IS JAG MAIN AAYE' - were especially composed by none other than Mr. Enoch Daniels. We salute him for creating these RAFI-GEMS for Asia's Christianity.
-- MEHTAB-UD-DIN MOBILE: +91- 98157 03226
HOWEVER, ENJOY THESE CHRISTIAN DEVOTIONAL SONGS --
CHALO CHALO DARSHAN KARNE JAG RAKHWALA AYA HAI