EARLY LIFE
Usha Timothy ji was born in a respectable Christian family of Nagpur, where her father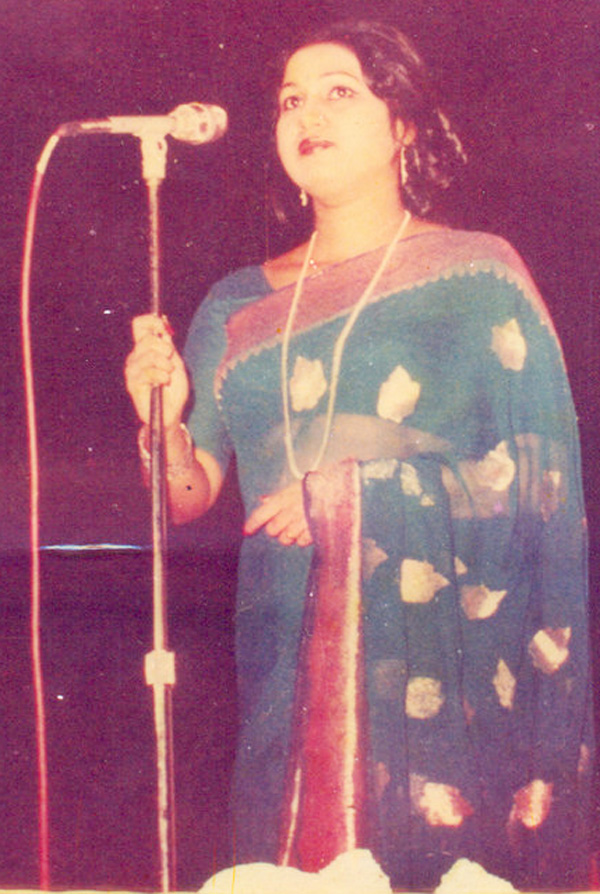 used to work for the CBI. Usha ji told that, "My family always had a strong inclination towards music which is the case even today. My elder brother Madhusudan
Timothy is a well known violinist of All India Radio and my cousin Vasant Timothy used to teach music at the Khairagarh University in MP. Vasant was a famous violinist in his own right. In such an environment my inclination towards music was but natural. I used to love
listening to songs of Rafi sahab and Lata ji from childhood on the radio, singing along, although I had not yet begun my formal music training"
DISCOVERED BY KALYANJI-ANANDJI
Usha Timothy's name is not unfamiliar for ardent hindi film music lovers.It is generally believed that She was discovered by
composer duo Kalyanji-Anandji who made her first sing the song "Tu Raat Khadi Thi Chhat Pe" for the movie "Himalay Ki God Mein"
in 1964. This is not the truth though. In actuality, even though she was discovered by the duo, it was composer Pt Shivram who
gave her the first break. The movie was Producer-Director Adarsh's 1962 movie Durga Pooja, in which She sang a Sanskrit Shlok
of sixty lines!Usha Timothy was only 13 years old at the time. Her duet with Rafi, "Tu Raat Khadi Thi Chhat Pe" was actually her
second recorded song which became quite popular in those days.
CAREER BEGAN AT 8
The Kalyanji-Anandji night which took place in Nagpur in 1956-57 proved extremely important for Usha ji. Her elder brother
Madhusudan ji was responsible for organising the program. Usha ji was merely seven years old at the time.
Stalwarts Mohd Rafi, Mukesh, Manna Dey and Hemant Kumar had reached Nagpur for the event but no female singer was
available for it. In this situation, Madhusudan recommended her name to Kalyanji-Anandji who dismissed the idea on coming to
know her age. Inspite of this, Madhusudan and friends didn't lose heart making Usha ji stand on the stage during the interval.
Her rendition of Rasik Balma from film Chori Chori without any orchestra enthralled the audience so much that she got
requests for singing many songs one after the other. Kalyanji-Anandji were also very impressed by her formidable talent and
decided to include her in their troupe. Usha ji regularly started visiting Mumbai to participate in the programs of their troupe thereafter. 
Usha ji recalls that thanks to those programs She soon became famous as Baby Usha Timothy. She was soon a regular member
of not only Kalyanji-Anandji's troupe but also those of Rafi sahab, Mukesh, C Ramchandra and also the musical group of
famous Hawaiian guitarist Sardar Hazara Singh
FORMAL TRAINING IN MUSIC
At the age of 11, Usha ji began taking formal training in music. She started taking training in classical vocal from Pt Lakshman Prasad
of Jaipur. She also started learning Tappas and Thumris from Nirmala Devi too. She also learnt classical singing from Pt Shivram when she
got a chance to sing the shlokas for Durga Pooja
MOHD. RAFI BECAME GURU
Usha ji says that Rafi sahab was her guru in the field of Playback singing. He taught her breath control and also to understand emotions
behind songs, singing them with bringing elements of acting. Rafi sahab believed that a good playback singer must act while giving playback.
Usha ji had developed a good rapport with Rafi sahab. She says, "Due to this, our range and surs had become quite similar. He loved my singing
and often recommended my name to composers for songs."
'TU RAAT KHADI THI CHHAT PE' - A BIG HIT
"Himalaya Ki Goad Mein" (1965) proved to be a quite big musical hit in those days. Usha ji got some benefit from it, but according to her,
her song, "Tu Raat Khadi Chhat Pe" was credited for long as an Asha-Rafi duet by Vividh Bharti. On pointing it out to the radio channel,
they rectified it. The reason for this was probably that even though She was influenced by Lata Mangeshkar's singing, her voice and
natural style of singing was closer to that of Asha Bhosle which made people think that the song featured the voice of Asha with Rafi.
'TAQDEER' EXPERIENCE
RajShri Production's Super Hit Film 'Taqdeer' (1967) has also two Super Hit Songs of Usha Timothy i.e. "Jab Jab Bahar Aayi...". Laxmikant Pyarelal gave her another Song to Usha ji, which was "Pappa Jaldi Aa Jana...", that was also a Big Blockbutster. She sang the songs with Lata Mangeshkar & Usha Mangeshkar. So Usha Timothy has many HIT SONGS in her basket.
SANG IN MANY LANGUAGES
Usha ji says that since her career began at a very young age, She was unable to maintain records of the songs sung by her.
She believes that She has sung over four thousand songs till now in many languages including Hindi, Bhojpuri, Marathi, Punjabi
and Malyalam. Many of her Hindi songs proved to be quite popular. These include, Taqdeer Ne Kya Angdaai Li (Sunehre Qadam 1966),
London Paris Ghoom Ke Dekhen (Parivaar), Dhol Baja Dhol Dhol Jaaniya (Vishwas), Honthon Pe Inkaar Thoda Thoda (Raat Ke Andhere Mein),
Ijaazat Hai...Irshaad ... Meri Jaan Tumse Mohabbat Hai (Mera Salaam), Are Rafta Rafta Dekho (Kahani Kismat Ki),
Jab Jab Bahaar Aayi (Taqdeer), Jo Mama Mera Aayega (Heer Ranjha), Honolulu Se Aayi Hoon (Khanjar), Kali Kali Zulfon Mein (Farishta Ya Qaatil),
Ja Pori Ja (Rahemdil Jallad), Ho Bairi Saiyaan Ki Nazariya (Uljhan), Main Hoon Saamne Tu Mere Saamne (Kaanch Aur Heera),
Ae Sapnon Ke Raja (Nateeja) and Natkhat Pare Hat Chhod (Rani Padmini).
SANG FOR VARIOUS COMPOSERS
During her singing career She sang for many composers other than Kalyanji-Anandji including Bulo C Rani, Roshan, Hansraj Behl, S.N. Tripathi,
S. Mohinder, Sardar Malik, Usha Khanna, Sonik Omi, Babul, Lala Sattar and Jagdish Khanna. She has sung with many playback singers including
Mohd Rafi, Mukesh, Kishore, Shamshad Begum, Suman Kalyanpur, Hemlata and Krishna Kalle. Remembering Shamshad Begum, she says, "Shamshad ji
had a very attractive and loving personality. She used to treat me like her own Child. Her voice had that "Khanak" and openness
which I have never seen in any other singer's. During recording, She used to say, Beta Dum (power) Ke Saath Gaao and I used to laugh, Shamshad ji aapke jaisi power to kisi ki voice mein nahin hai!".
Not many people know that Usha ji was also a regular participant in the shows of C Ramchandra also. She says, "I used to be part of his shows
regularly. Infact, the famous Pradeep song, Aye Mere Watan Ke Logon was initially sung as a duet by me with C Ramchandra sahab for a show
"Sainikon Ke Liye" conducted in Ahmedabad Stadium. This was around two months before Lata ji presented it as a solo. Thus me and C Ramchandra
sahab were the first singers to publicly give voice to this fabulous song."
ANECDOTE WITH KISHORE KUMAR
Usha Timothy fondly remembers Kishore Kumar as well. In comparison to the humble personality of Rafi sahab, Kishore had a very naughty and carefree personality. He could not keep quiet for even one second. She recalls, "Once I went for a program to Indore with Kishore Kumar, Ashok Kumar, Anoop and Amit Kumar. Suddenly Kishore made the car stop in front of the Christian College where he used to study.
Ecstatically shouting he ran into his college, did a full round of the college without stopping and came back running into the car asking it to move.
But this action of his caused a commotion in the college. Recognising him a huge crowd of students ran behind him!
I get a great sense of amusement to this day when I remember the incident".
REMEMBERS SARDAR MALIK & S. MOHINDER
Usha ji has great regard for composer Sardar Malik as well. She says, "He was an extremely talented composer but in tune with his humble nature, he could not understand the tricks of the film industry. Inspite of this, he maintained the standard of his compositions in whatever work he did. Once I had given the alaap for a song he composed for singer Subir Sen. He was very happy with my singing and then made me sing "Natkhat Pare Hat" in the film Rani Padmini."
She recalls another interesting incident, "Once composer S Mohinder called me to sing a song for him. I was merely thirteen years old at the time. The producer panicked on seeing me, ruing how a small girl like me could sing. Call a big singer he said.
Inspite of S Mohinder sahab's many pleas the producer refused to listen to him. On Mohinder ji's advice, the next day I wore a borrowed Saree to the recording and the producer didn't recognise me. He was extremely happy on listening to my song.
Actress Manorama was present at the recording and said that Art does not see age. I finally got the chance to sing all songs of that movie!."
REMEMBERS SONIK OMI
Remembering Omi ji she recalls, "Omi ji of Sonik-Omi combination used to sing very well. He was initially an assistant to Roshan sahab and I used to often see him singing during rehearsals. I have still not understood why he didn't try to sing in movies even though he could have been a very good playback singer."
REMEMBERS ROSHAN & MADAN MOHAN
 Usha ji fondly remembers composer Roshan as well and says, "Roshan sahab helped me improve my singing a lot. He taught me how to sing slowly with pauses while still maintaining the sur. I had sung for him for the movie Dadi Maa."
She continues, "I had also sung for Madan Mohan ji for Heer Ranjha. My first meeting with him had occured in a quite dramatic manner. Once in a wedding function, as part of Sardar Hazara Singh's orchestra, I was singing the song, "Yun Hasraton Ke Daag Mohabbat Mein Dho Liye" from movie Adalat. One gentleman from the crowd got up and asked why this sad song was being sung on such a happy occasion. I started fighting with the gentleman saying, Do you know this song is of which great composer? Madan Mohan! I was amazed to discover that the gentleman was Madan Mohan himself. He became happy and gave me hundred rupees as a reward. Hundred rupees meant a lot in those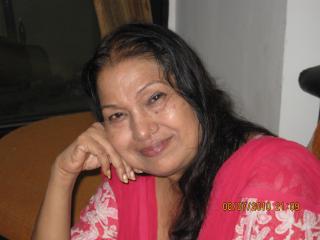 days, but getting it from him was a very big thing for me. I kept that note as a treasure for many years to come. Madan Mohan sahab was a very decent person with a very sweet personality. However, when work was concerned he was very professional and demanded punctuality from all. Once he called me at his house at Nine o' Clock. I reached his house at Eight Thirty itself.
But he sent me back, saying, Nine means Nine. And when at exactly Nine o'Clock I rang the call bell, he welcomed me with great respect. Once I saw him sitting at the platform of the Grant Road station. He used to stay on Peddar Road's Shanti Building at that time. I inquired about what he was doing there. He answered, I come here often and silently watch the crowds. He perhaps used to get a sense of peace, sitting alone there among the crowds."
- SHISHIR KRISHNA SHARMA
[anmolfankar.com]